Jonathan Swift in VR/AR- Long Room Project
20th June 2018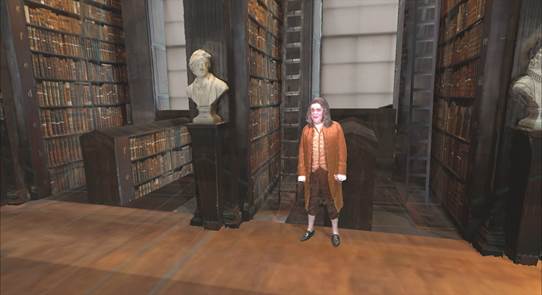 ---
The Long Room holds a very special place in the hearts of students, staff, alumni of Trinity College Dublin, and the wider Dublin community. There is no substitute for the genuine experience of being immersed in the great space within the Long Room. However, we were inspired to create an anecdotal visitor narrative and concept that would augment the visitor experience. The user is guided through the Long Room by a friendly vologram, a volumetric 3D video representation of the great Jonathan Swift. The Virtual Reality (VR) and Augmented Reality (AR) innovative prototypes we created enabled an interactive narrative whereby a visitor can engage in an augmented tour of the Long Room with the use of this interactive digital media and which highlighted the following distinctive features:
The content: Books, rare artefacts, sculptures, etc.
The environment: the building itself (UNESCO world heritage site), most breath-taking feature
The heritage: the history, the Historical significance, the legacy
and the technology: the project would be synergetic, in the sense the we would develop the technology around engaging content.
The interactive Virtual Reality (VR) prototype visualized The Long Room content and history where a user would be immersed in a world through VR simulation. The user could be located anywhere in the world, and by putting on the Head Mounted Display (HMD), they can enter the magical virtual simulation of the Long Room. The user can explore this on PC (browser), iPad, iPhone or Android Phone/Tablet. The Augmented Reality (AR) version takes place within the actual Library environment via the use of HoloLens or handheld was developed in the second phase and only uses Dynamic content and did not 'virtually' reconstruct the internal spaces of the Long Room. This project is an example of our creative experiments, which showcase our original technologies in real creative productions. In this case we demonstrate our novel tools and pipeline for AR/VR content creation.