V-SENSE Creative Experiment collaboration 'Faoladh' with artist Declan Dowling is nominated for two Venice TV Awards & exhibited on a 700 square metre hybrid cinema!
15th October 2019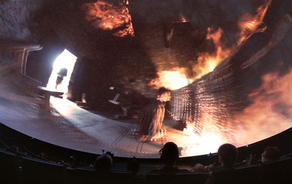 ---
V-SENSE collaborated with artist Declan Dowling on this stunning art project titled Faoladh .
Faoladh is a stereoscopic virtual reality film that follows the perilous journey of a 9th century Irish child who's village is attacked by Viking raiders. In the film you take on role of a wolf like guardian spirit and protector of the children from the woods of ancient Ireland.
We are delighted to announce that Faoladh is being exhibited on a 700 square metre hybrid cinema at Beyond, Experimenta. The film has also been nominated in two categories at the Venice TV Awards. One for "Best of Technology and Innovation" and one for "Children / Youth" . It is now being screened at the Future Imaging Art Week in collaboration with vrcore in China.
Congratulations to Declan and our V-SENSE team!
Please see here for more information here and about Faoladh.