Intermedial Play/Virtual Play, in Association with Samuel Beckett Summer School
22nd July 2017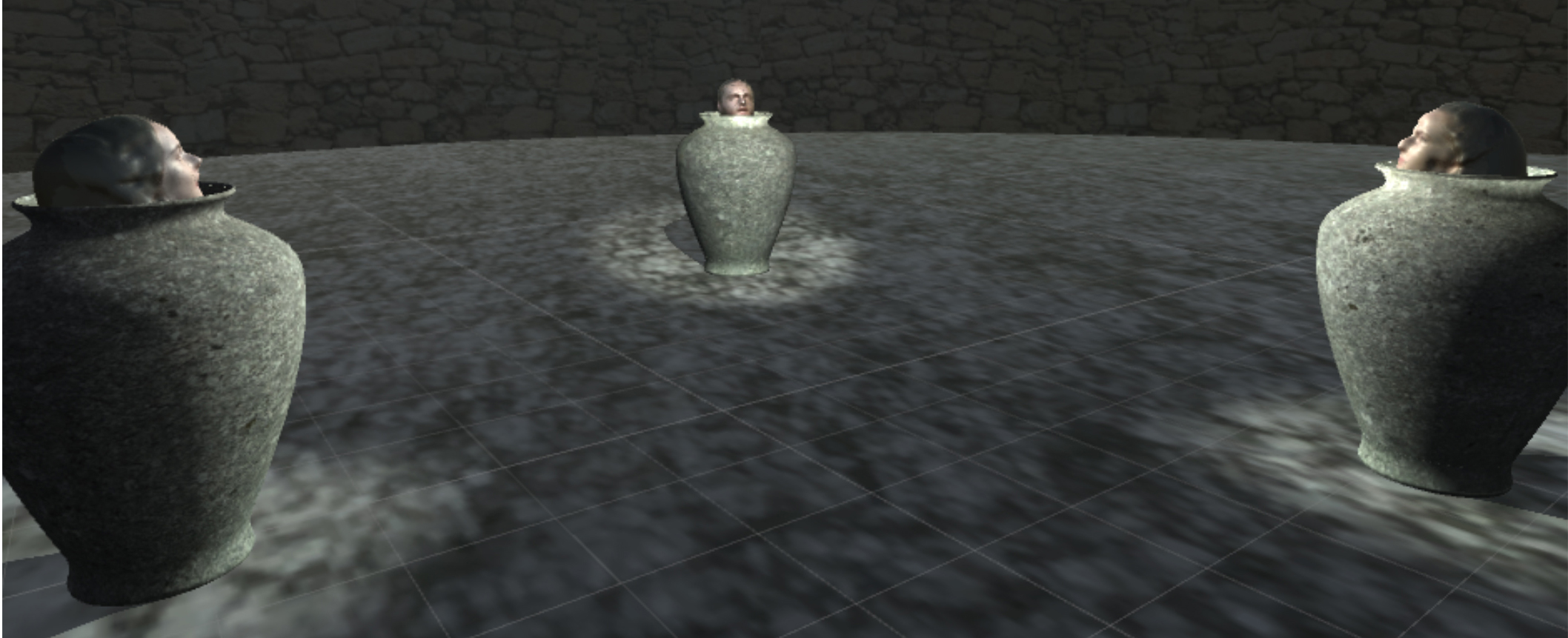 ---
A public presentation of Virtual Play, the inaugural V-SENSE Creative Technologies project.
LOCATION:
Arts Technology Research Laboratory (ATRL)
DATE AND TIME:
Tue 1 August 2017, 18:30 – 20:00 IST
DESCRIPTION:
"Are you listening to me? Is anyone listening to me? Is anyone looking at me? Is anyone bothering about me at all?"
Intermedial Play/Virtual Play is an exploration of Samuel Beckett's Play (1963), re-imagined for digital culture. This event will present cutting-edge interdisciplinary research into Beckett in performance underway at Trinity College Dublin, showcasing a screened live-stream of Play (sent via a PTZ robotic camera into ATRL) and the initial 3D renderings from Play in virtual reality (VR). A practice-as-research collaboration between the School of Creative Arts/Trinity Centre for Beckett Studies, the School of Computer Science and Statistics, and the Department of Electrical and Electronic Engineering, this project is led by Néill O'Dwyer (V-SENSE), Nicholas Johnson (Creative Arts), and Enda Bates (Music Media Technologies).
In Beckett's script, three heads that are "lost to age and aspect" are provoked into speech by a light Beckett described as an "interrogator," and then forced to repeat the sorry tale of their love triangle (apparently into infinity). The play inaugurated a new approach in Beckett's theatre and opened the period of his later, image-based works. In its structure, Play seems to question the very essence of the act of performance, but it does so via the technologies of Beckett's day (remotely controlled theatrical lighting). Responding to Beckett's deep engagement with the problems of performance and its interaction with technology, this project investigates how narrative, perception, communication, and embodiment have all been altered through contemporary media, and asks how they might operate in the media of the future.
This is the inaugural artistic-cultural experiment under the creative technologies remit of the V-SENSE research project (funded by Science Foundation Ireland), held by Prof. Aljosa Smolic. It features virtuoso performances by Colm Gleeson, Maeve O'Mahony, and Caitlin Scott. Following the viewing of the live-stream of Intermedial Play, the team will demonstrate the virtual reality technology for Virtual Play, and after questions, participants may experience the virtual realm themselves.