Professor Aljosa Smolic awarded IEEE ICME 2020 Multimedia Star Innovator Award!
10th July 2020
---
We are delighted to announce that Professor Smolic was awarded the IEEE ICME 2020 Multimedia Star Innovator Award!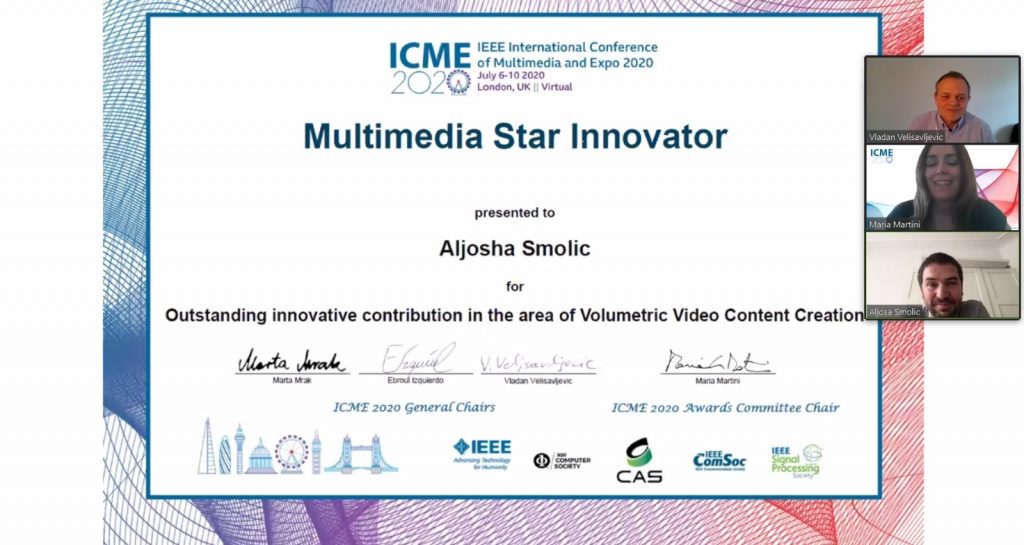 The Multimedia Star Innovator Award was created to recognize pioneers of transformative technologies and business models in areas within the technical scope of the IEEE ICME conference series. The Award showcases innovations that have had great impact on human experiences or are anticipated to do so in the near future. To reflect widespread appreciation by the community, the winner is selected through voting by registered attendees of the conference, among finalists selected by an Award Board. The finalists were invited to present their innovations in a designated Star Innovators session at IEEE ICME 2020 last Thursday, 9th July which was chaired by Maria Martini is Professor in the Faculty of Science, Engineering and Computing at Kingston University London. Professor Smolic presented his talk titled Volumetric Video Content Creation – From Research to Products and Services .
Nominees were assessed on the current impact (or potential impact) of the innovation on society through new/improved products and services, and/or economic benefits; the novelty of the innovation relative to public prior art (e.g., publications, published patents and patent applications); the quality of the nomination. Fellow award nominees were Xiaodong He, Deputy Managing Director of JD AI Research; Maja Pantic, AI Scientific Research Lead in Facebook London and Professor at Imperial College London; Fatih Porikli, Vice President of San Diego Device Hardware Competency Center, Futurewei, San Diego and Professor Australian National University.
Congratulations to Professor Smolic on receiving this prestigious award!
Please see all information here!