Professor Smolic and Volograms receive Trinity Campus Company Recognition Award!
20th December 2018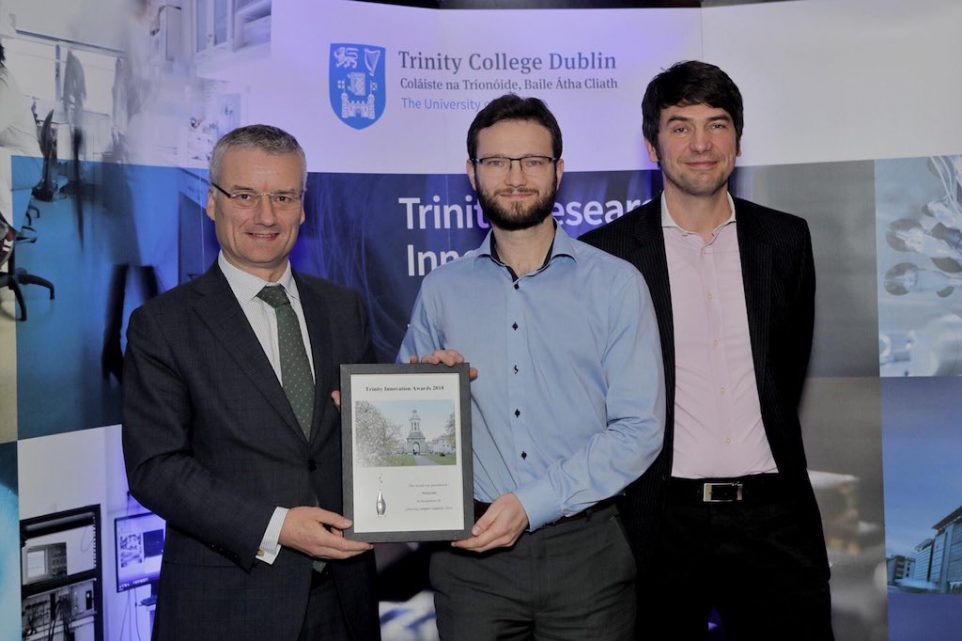 ---
Provost Prendergast presenting the Trinity Campus Company Recognition Award to Dr Jan Ondrej and Professor Aljosa Smolic.
Congratulations to our V-SENSE Leader and SFI Research Professor of Creative Technologies, Professor Aljosa Smolic and our colleagues at Volograms, Jan Ondrej , Rafael Pagés, Konstantinos Amplianitis, on their Campus Company Recognition Award at the Trinity Innovation Awards held on the 19th December 2018.
The Trinity College Innovation Awards took place in Regent House on Front Square on Wednesday 19th December 2018. The awards celebrate innovation and entrepreneurship at Trinity College Dublin hosted by the Provost, Professor Patrick Prendergast. Leading researchers and inventors at Trinity College Dublin were acknowledged for their innovative research and entrepreneurship at the Trinity Innovation Awards 2018 special awards ceremony.
This year the awards ceremony comprised of :
·        The announcement of the winners in each category
·        The presentation of the Provost's Innovation award for 2018
·        A recognition event for our recently formed Campus Companies
The six spin out companies which attained Campus Company status in 2018 were recognised. These included:
Volograms which empower users to create their own content for VR/AR;
CroiValve which develops a minimally invasive device for the treatment of a heart condition;
Junction Therapeutics which deliver treatments across the Blood Brain Barrier;
Selio Medical which are developing a novel technology to prevent pneumothorax, a common, costly, and sometimes deadly complication of lung biopsy impacting one in three patients;
Danalto which offer full application end to end solutions for next generation Low Power Wide Area Internet of Things;
DataChemist which make big data meaningful by building structured, consistent data stores.