Professor Smolic is invited to talk at the NEM Summit 2017 in Madrid!
29th November 2017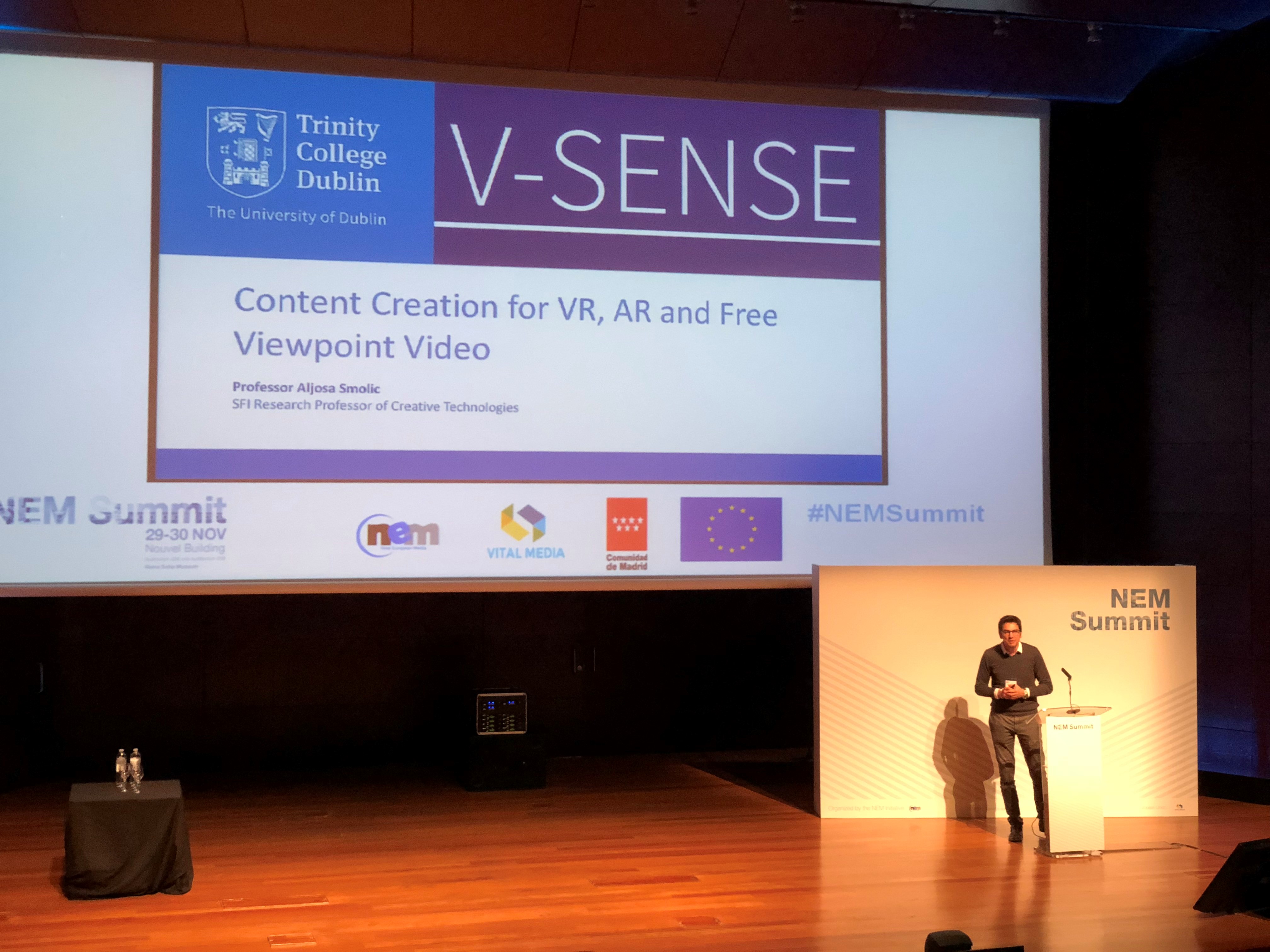 ---
Professor Smolic presents his talk on Content Creation for
VR, AR and Free Viewpoint Video at NEM Summit 2017!
On Wednesday, 29th November, 2017, Professor Smolic was an invited speaker at the  NEM Summit 2017 in Madrid. The Summit took place at the beautiful Museo Reina Sofía, Madrid. Professor Smolic was joined by Andreas Ehret, Vice President of Broadcast Technology, Dolby, Harini Hariharan, Saarland Informatics Campus, Saarland University and many more inspiring speakers. Further information on the NEM Summit can be viewed here.
V-SENSE was successfully selected as a finalist for the NEM Art and Design Competition for our work on the Virtual Play: after Samuel Beckett. Congratulations to the team for their excellent work and getting to the finals! It is an opportunity for Innovative Technologists and Artists from Europe to submit their own creations, utilizing new technologies such as Immersive (Augmented Reality / Virtual Reality), Artificial Intelligence & Machine Learning, Digital Manufacturing (e.g. 3D Printing), Internet of Things and Blockchain / Smart Contracts to illustrate how life and creative businesses can benefit from emerging technologies, inspiring new applications for tomorrow, and developing new opportunities for imaginative creativity.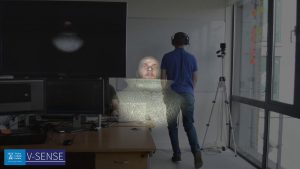 Virtual Play: after Samuel Beckett
The NEM Initiative (New European Media Initiative) was established as one of the European Technology Platform under the Seventh Framework Programme, aiming at fostering the convergence between consumer electronics, broadcasting and telecoms in order to develop the emerging business sector of networked and electronic media. In order to respond to new need and requirements of the Horizon 2020 programme, the NEM initiative enlarged its focus towards creative industries and changed its name from Networked an Electronic Media Initiative to New European Media, dealing with Connected, Converging and Interactive Media & Creative Industries, driving the future of digital experience.
The NEM constituency includes all major European organisations working in the networked and electronic media area, including content providers, creative industries, broadcasters, network equipment manufacturers, network operators and service providers, academia, standardisation bodies and government institutions. Those actors share a common Vision and have been producing a Strategic Research and Innovation Agenda (SRIA) as well as position papers, in order to accelerate the innovative development of the new sector in a harmonised and fruitful way and to place European industry at the forefront of the information era.
NEM focuses on an innovative mix of various media and creative content forms, delivered seamlessly over technologically transparent networks, to improve the quality, enjoyment and value of life. NEM represents the convergence of existing and new technologies, including broadband, mobile and new media, including creativity, across all sectors, to create a new and exciting era of advanced personalised services.