VR Ulysses Live in AltSpace VR: 16 June 2021, at 15h00 (GMT).
13th June 2021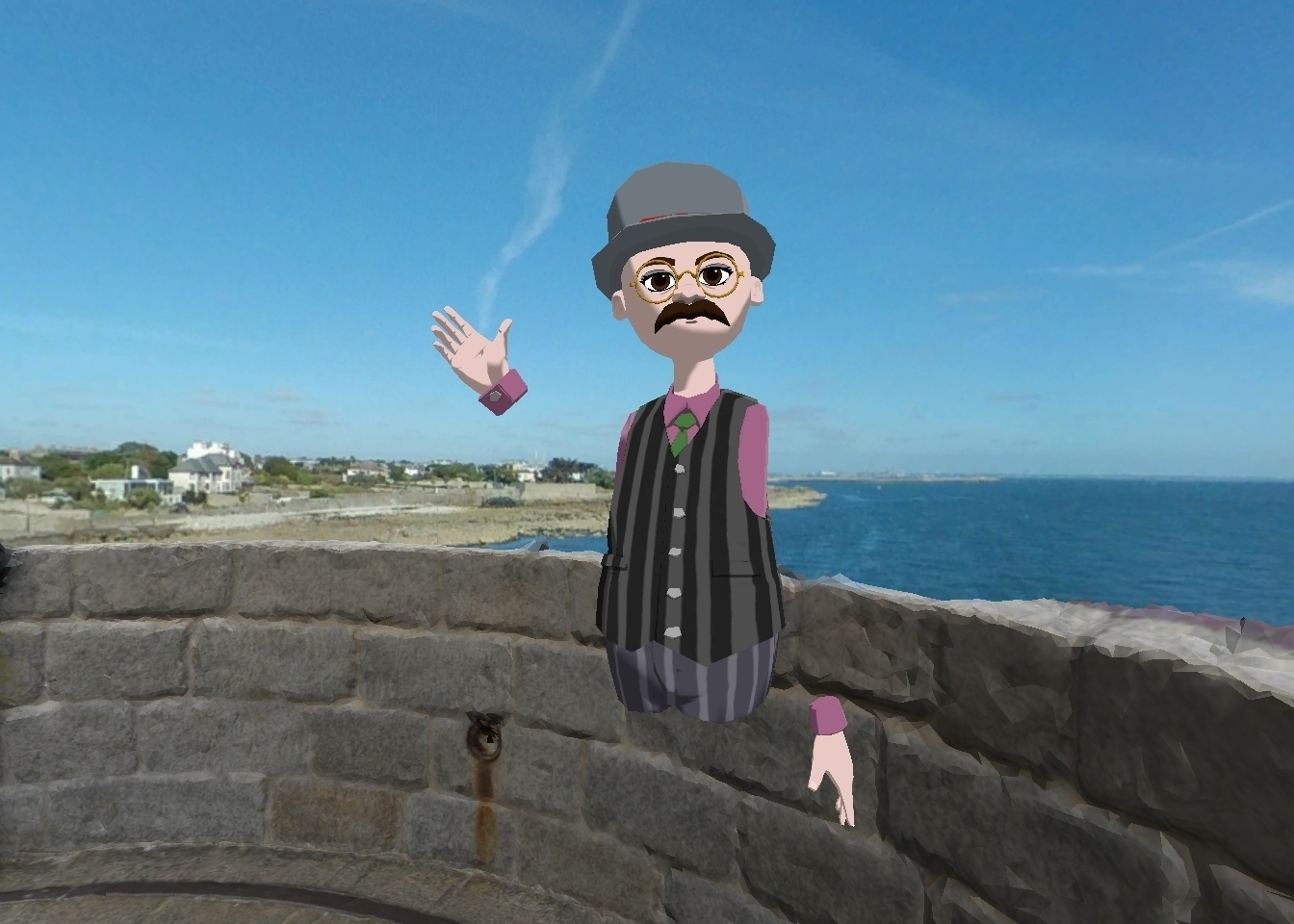 ---
V-SENSE is set to deliver an innovative experiment that will enable individuals to experience a dramatic re-enactment of James Joyce's Ulysses live in virtual reality (VR) for the first time.
In this cutting-edge production of VR drama, computer science and drama researchers will reimagine a section of the opening scene of Joyce's classical modernist work of literature in a way that is engaging for 21st-century audiences by using state-of-the-art interactive digital media technologies.
VR Ulysses Live is the second part of a series of creative–cultural experiments investigating questions around preservation, access, reactivation, and transmission of intangible cultural heritage (drama and literature) in the context of interactive digital media technologies. Continuing the collaboration with Joycean scholar Paul O'Hanrahan (director), this episode expands on last year's version, MR Ulysses (released on Bloomsday 2020), which reimagined the same scene using cutting-edge volumetric video techniques.
In VR Ulysses Live, audiences are invited to either put on a VR headset and 'virtually' attend the Martello tower-top or watch via a live stream of the performance <https://youtu.be/uFy2VFIuQ_I>. Whereas the live stream will be available to all, spaces for the virtual tower-top performance (in AltSpaceVR) are limited. If you would like to attend in VR, you must have an AltspaceVR account set up and ready to go (we will not provide tech support for registering an AltSpace account), and you must register for the event here for a private invitation.
We will hold a short Q&A session on Zoom, immediately following the performance, from 15h30 until about 16h00. If you would like to attend the Q&A, a link will be shared on the day of the performance. The Q&A will be recorded.
XR Ulysses Live is yet another pioneering milestone for V-SENSE. We look forward to welcoming you either in VR or on our live stream channel on 16 June at 15h00 (GMT).
CREDITS:
Director: Paul O'Hanrahan
Producer and Scenographer: Gareth W. Young
Co-producer: Néill O'Dwyer
Screenplay: Néill O'Dwyer & Paul O'Hanrahan
Assistant Producer and broadcast coordinator: Matthew Moynihan
Principal Investigator: Aljosa Smolic
CAST:
Buck Mulligan: Néill O'Dwyer
Stephen Dedalus: Cameron Brady